Penis Clitoris Remarkable Similarities
Penis Clitoris Remarkable Similarities, written by Aleena Aspley who is a Certified Sexological Bodyworker. Aleena's studio is located in North Brisbane, Australia.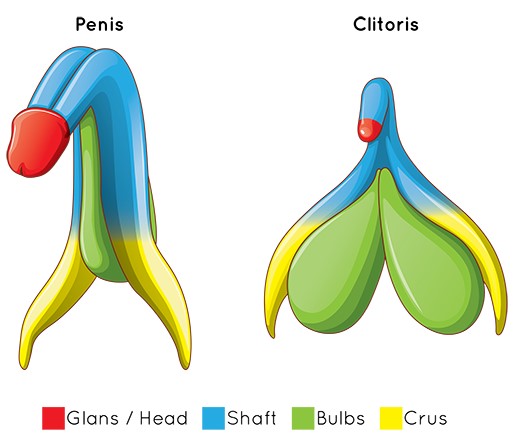 .
.
MS ALEENA ASPLEY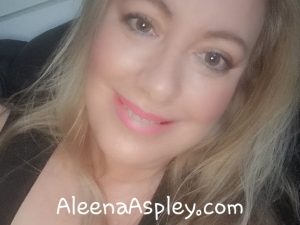 The clitoris is one of the most facinating female human body parts which has a striking resemblence to the male penis.
The clit is a nerve dense female plesure organ having the most nerve endings per square centimetre of any part of the whole human body.
The clitoris serves no biological function other than pure female pleasure. 
I have given Yoni Whisperer Bodywork, to many women over the past decade and when a woman's clitoris is aroused and her clitoral hood is retracted, the female clitoris certainly does look like a mini penis, OR does a penis look like a large clitoris? What do you think?
"The Remarkable Similarities between the Penis and the Clitoris" written by Certified Sexological Bodyworker Aleena Aspley, Brisbane Australia. 25th July 2023
.
.
THE REMARKABLE SIMILARITIES BETWEEN THE PENIS AND THE CLITORIS
.
The human body holds an array of fascinating and complex structures, and among them are the penis and the clitoris. Despite their apparent differences in size and external visibility, these two organs share surprising similarities.
As essential components of human sexuality, the penis and clitoris play a crucial role in pleasure and reproductive functions. There are remarkable similarities between these two sexual sensory organs and their shared characteristics.
.
.
FETAL DEVELOPMENT IN THE WOMB
During the early stages of development in the womb, all babies, regardless of their future gender, start with a small bulge known as a genital tubercle. The fate of this tubercle depends on whether the fetus is destined to be male or female.
For males, (XY Chromosome) the fetal testes will produce the male hormone testosterone, leading to the development of a penis from the genital tubercle.
If the fetus is destined to be female (XX Chromosome), the fetal ovary will not produce any hormones, causing the genital tubercle to develop into a clitoris.
In these early days of pregnancy, both the developing penis and clitoris appear remarkably similar in structure.
.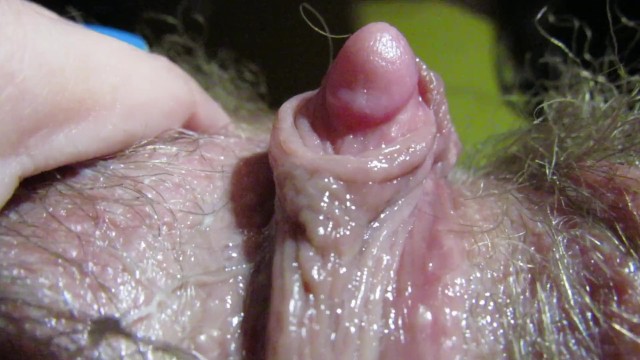 .
THE CLITORIS DEDICATED TO SOLELY PROVIDING FEMALE PLEASURE
The clitoris serves as the primary pleasure organ for women, being exquisitely sensitive and dedicated solely to providing pleasure.
The clitoris has a structure that is similar to the penis. It includes erectile tissue called the corpus cavernosum, a covering similar to the foreskin called the clitoral hood, and a head-like part called the glans, resembling the head of the penis. Just like the penis, the clitoris can become erect because it has many blood vessels.
The clitoris has an external part that looks like a visible "button" with a diameter of 0.7 to 1 cm. But there's more to it! The clitoris also has internal parts, making its total size about the size of a hand, which all contribute to female pleasure.
The external part, which includes the head and shaft, connects to two roots, each about 10 cm long. These roots surround the vagina and the urethra (the bladder outlet).
The interaction between the clitoris and the vagina is important for enhancing pleasure. When the vagina is penetrated, it stimulates the internal part of the clitoris, leading to the opening and lubrication of the vagina.
Many women experience orgasm through direct clitoral stimulation. During sexual intercourse, some women achieve orgasm from external clitoral stimulation, while others may reach orgasm due to the internal large size of the clitoris and stimulation from vaginal penetration.
It is really important, for a woman to know what turns her on, how she likes to receive touch and stimulation. Every women is a unique individual, and if she knows what really turns her on she is able to communicate to her partner, relax, drop into the moment, enjoying her partners stimulating touch and experience many orgasms.
Guys, it's essential to ask your lady what she likes. This doesn't diminish your masculinity; rather, it shows that you respect and value her pleasure. Every woman enjoys different types of stimulation, and open communication, between couples ensures much enjoyment when having sex.
.
Penis Clitoris Remarkable Similarities
THE ANATOMY OF THE CLITORIS
Upon initial observation, the penis and clitoris may seem quite different, but a closer examination reveals striking similarities in their fundamental anatomical structures.
The clitoris and the penis have erectile tissue, known as the corpus cavernosum, which fills with blood during arousal, causing heightened sensitivity and rigidity.
Additionally, both the clitoris and the penis feature a glans (head), a highly sensitive region densely packed with nerve endings, contributing to the experience of sexual pleasure. Moreover, both organs are protected by skin folds – the clitoral hood (foreskin) and the foreskin for the penis.
Both organs, the clitoris and the penis, swell and engorge with blood when teased and stimulated.
.
.
YONI WHISPERER BODYWORK
STAGES OF AROUSAL OVER 60 MINUTES

.
.
SO, TO RECAP
The Penis and Clitoris both have: 
Erectile Tissue (corpus cavernosum)

A Foreskin (Clitoral Hood)

A Glans (Head)

They both Swell and get Larger when Aroused
.
Clitoris A Mini Penis
CLITORAL AROUSAL
Both the clitoris and the penis share a remarkable similarity in their exceptional sensitivity. Both the glans (head) of the clitoris and the penis contain a high concentration of nerve endings, making them incredibly responsive to touch, stimulation, and arousal.
This heightened sensitivity enhances human arousal, leading to unadulterated pleasure, joyous sensations when stimulated and tenderly stroked leading to amazing heights of orgasm for people of all genders.
.
.
GUYS, THE CLITORIS SERVES NO BIOLOGICAL
FUNCTION OTHER THAN PURE PLEASURE
.
Penis Clitoris Remarkable Similarities
Another significant similarity between the clitoris and the penis lies in their role in experiencing orgasm. Both organs contribute significantly to the attainment of reaching orgasm during sexual activity.
In males, sexual stimulation leads to the release of seminal fluid during ejaculation, while in females, arousal results in muscular contractions in the pelvic region, often leading to orgasm.
Despite the differences in the physical manifestation of orgasm, the underlying experience of pleasure and release are remarkably alike for both genders. Personally, I believe the experience of orgasm is unique to every human being.
.

.
HUMAN REPRODUCTION
While the primary purpose of the clitoris and the penis is pleasure, it is essential not to overlook their significance in reproduction.
The penis serves as a highly sensitive male reproductive organ, delivering sperm into the female vagina during sexual intercourse.
The clitoris's presence plays an indirect but vital role in reproduction.
Female pleasure associated with clitoral stimulation encourages a woman to desire intimacy and through sexual intercourse the likelihood of experiencing an orgasm and possible procreation.
.
.
YONI WHISPERER BODYWORK
STAGES OF AROUSAL OVER 60 MINUTES
.
.
THE REMARKABLE SIMILARITIES BETWEEN THE PENIS AND THE CLITORIS
To conclude my blog writings, I am sure you will agree that the similarities between the penis and the clitoris are far more profound than their apparent differences.
Both the penis and the clitoris function as sensory structures, responding to touch and arousal, ultimately leading to immense sexual pleasure, for people of all genders, one orgasm or multiple orgasms.
.
.
GUYS, MEN CAN BE MULTI-ORGASMIC,
JUST LIKE A WOMEN!
.
I'VE BEEN COACHING MEN TO BE
MULTI-ORGASMIC & LAST LONGER
FOR NEARLY 20 YEARS!
.
THIS MEANS A PERSON WITH A PENIS
CAN EXPERIENCE MANY ORGASMS
AND EJACULATE WHEN HE WISHES!
.
ADVANCED SEXUAL SKILLS FOR MEN
SEE BELOW FOR DETAILS
.
.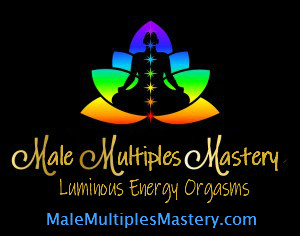 .
.
MALE MULTIPLES MASTERY
ADVANCED SEXUAL SKILLS FOR MEN
The male body has such amazing capacity to experience heightened states of ecstatic bliss, pleasure and un-chartered orgasmic potential. I'm NOT talking about a 10 second male genital orgasm resulting in ejaculation, erection loss and sex is over!
I AM talking about, adult males, experiencing heightened states of sublime ecstasy, orgasmically, for FIVE, TEN, THIRTY minutes and longer – WITHOUT EJACULATING!
NON-EJACULATION MALE ORGASM
Yes, you did hear me correctly – men can orgasm without ejaculating, when his ejaculation reflex is relaxed, just before a male goes into the point of no return.
My Male Multiples Mastery session, re-wires, coaches and educates men to be able to reach orgasm intensities where the male body is able to orgasm without ejaculating.
This is not a joke, men CAN orgasm for extended periods of time, without ejaculating, but only when his orgasm reaches a measured frequency and/or intensity, his sexual Kundalini energy is awakened and his sexual chi is circulated into the Luminous Energy of his body!
Click on this link to learn about my Male Multiple Mastery and learn to have many orgasms without ejaculating.
.
TANTRIC MALE MULTIPLES MASTERY, An Auric Orgasm with Ejaculation Choice
.
.
ERECTION LOSS PENIS REJUVENATION BODYWORK, Fixing Half Mask issues
.
Penis Clitoris Remarkable Similarities
CONTACT DETAILS
Ms. Aleena Aspley
Certified Somatic Sexologist / Sexological Bodyworker
Neo Tantra, Kinkassage® & Chakrassage Professional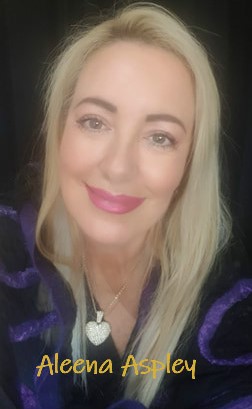 Location:  North Brisbane, Queensland, Australia
Mobile: 0404 449 433  (TEXT ME TO BOOK)
International: +61 404 449 433  (TEXT ME TO BOOK)
Male Website: www.LingamWhisperer.com.au
Female Website: www.YoniWhisperer.com.au
Couples Offerings: www.OrgasmicMastery101.com 
BOOKINGS: Do text my mobile phone, with your name, and ask me to call you back.
BY APPOINTMENT: I am available Monday to Friday until 9pm. I do work occasional weekends, so just ask if I am available.
Do book in advance because my booking diary fills up quickly.
PLEASE NOTE: If you don't live in the Brisbane area then I will recommend a Certified Somatic Sexologist (Sexological Bodyworker) or Tantra Professional in your area of Australia. Just ask.
.

Male Multiples Mastery Brisbane
HEALTH & MEDICAL INFORMATION DISCLAIMER
The information provided on this website is provided for information purposes only. If you are a patient using this Site, you should seek assistance from a health care professional when interpreting these materials and applying them to your individual circumstances.
If you have any concerns about your health, consult your general practitioner. Information provided on this site does not imply endorsement of third-party services or products and cannot provide you with health and medical advice.

.
.
MALE MULTIPLES MASTERY BRISBANE
NO MORE PREMATURE EJACULATION!