HAVE YOU EVER WONDERED WHAT IT MIGHT BE LIKE TO EXPLORE YOUR SUBMISSIVE DESIRES? 
To completely let go of control and surrender into pure bliss?  Join us in a Kinky and Playful Session of Sensual Erotic Bodywork/Touch, Light BDSM Pleasure Overload, Yoni Intimate Touch, a Blindfold, Headphones and Soft Leather Restraints.  
(Click Here to read the Cleo article)
Wickedly stimulating
BONDASSAGE®
combines innovative sensual touch techniques with subtle Breath and Energy work, Sensual Body Percussion, Slow Luxurious Flogging, and a delicious Menu of Erotic Sensation Play.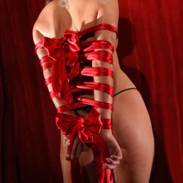 BONDASSAGE®
is a highly provocative gateway to ecstatic altered states where you can explore Full-Body Orgasm, Male Multiple Orgasms and Heightened States of Full-Body Arousal.  All Bondassage sessions are tailored to your specific individual needs.
Many men would safely like to explore dominance and their Light or Strict BDSM edge.  Bondassage is an extremely
SAFE
way to explore the Kinky unknown and awaken your male body to experience profound pleasure states.  Every male has the potential to access Heightened States of Orgasmic Consciousness.
A
BONDASSAGE®
session is all about a dynamic up-market spa experience and a transforming journey of uniquely tailored erotic pleasure, combining light bondage (BDSM), handcuffs, visual sensory deprivation, sensual erotic music and relaxing sensual touch. In addition, the Bondassage experience can propel your male body into the BDSM experience called "Subspace".
WHAT IS SUBSPACE?  The Bondassage experience is all about the escape from the mundane world, going into another dimension called "Subspace", and surrendering into pure erotic and relaxing pleasure.
Sub-space is usually defined as "an exhilarated state that most believe is caused by a rush of endorphins emitted during a BDSM scene." Many men say their Bondassage session, felt like they were flying in a deeply pleasurable trance and they enjoyed the opportunity to completely surrender and lose themselves into all-body pleasure!
Letting go is the key with Bondassage, surrendering into the unknown can be a profound erotic turn-on!
Your Bondassage session will begin with a chat to discuss your pleasure goals and safety boundaries.   At the beginning of your session, you will wear a blindfold and headphones.  Your Master or Mistress will bound you with soft leather restraints.  It is our goal to assist your body to surrender into  profound relaxation, a place where you can unwind and experience the titillating exhilaration of light bondage, sensual body touch and teasing domination without the harshness of traditional and stricter BDSM domination.
During your Bondassage session your may lose yourself in the experience of "Subspace".  Many men experience a facial glow, profound relaxation, release from stress and all-over-the-body tingles for the rest of the day after their Bondassage session.
COUPLES BONDASSAGE:  Modern adventurous couples are interested in experiencing something different, to spice up their sex lives and add variety with sensation play, crops and toys, and learn new bedroom techniques.  Do ask your Master or Mistress for details of their Couples Bondassage sessions.
Where can I book a Bondassage experience?  At this time there are roughly 10 certified Bondassage practitioners in Australia.
This light BDSM and sensual body touch experience has now gone global and you can experience a Bondassage session in Europe, the USA, the United Kingdom, Australia and New Zealand.

Discover a World of Blissful Intensity and Intimacy.  Come and experience this deliciously creative playground and awaken to a profound level of pleasure and relaxation.
For More Information about Bondassage: www.Bondassage.com
TESTIMONIAL
"There is a fine line between Pleasure and Pain and as an Australian teacher of Tantra and Kink, I was completely blown away by my Bondassage experience with Mistress Liana, Byron Bay, Australia!
I loved the idea of the headphones and a blindfold and right from the beginning of my Bondassage session I lost myself in the divine bliss of another pleasure universe!  During my session I completely lost track of time and experienced profound full-body relaxation!
My Mistress quickly discovered the sensitive areas of my lower back that can completely drive my body crazy and I alerted every tenant in my Mistress's unit complex with my loud screams and moans.
I loved the prickly toys that my Mistress rolled all over my lower back and the intense pleasure I experienced from the pinwheels and the magic wand skyrocketed my orgasm into such a high vibration that my whole body spasm'd with multiple orgasms and for the first time in my life my whole body released into female ejaculation.
Oh my God did I squirt and ever since my Bondassage session I have squirted with every orgasm!  I have found my divine – I am now a Bondassage Practitioner".  (Mistress Aleena North Brisbane December 2011 www.BondassageBrisbane.com)
.

.